I have been visiting Tammy at Lifestyle Harmony for nearly six months and have experienced the most fantastic therapeutic massages. Tammy treats the mind and body, and her gentle and caring manner make it an exceptional place to visit if you need to take time out from your busy schedule and focus on yourself and on relaxation.
I suffer from ongoing lower back pain and tension in my shoulders which has improved tenfold since I have been going to Tammy. She also managed to completely heal my sprained arm.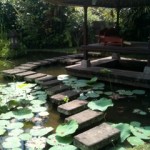 Tammy immediately finds out, through careful questioning, where your mind and spirit is at on arrival, you select the oils and then you lie down in a warm place with soothing music as she performs her magic.
I strongly recommend Tammy Phye's exceptional service at Lifestyle Harmony!
Judy Stephan
Nanaimo Magazine
Feb. 2013
---
Peggy loves the cleansing mist I gave her and how she uses it in many ways. Here I explain why it works.
---
Thank you again for sharing your vision/goal setting workshop with us! We enjoyed getting together as a team with something focused on us as people as well as co-workers.
I would like to say that you have a great ability to draw staff into the conversation and have them enjoy a comfortable experience.
The visualization was a welcome relief after a very busy day.
You clearly demonstrate how personal goals and work goals are intertwined and can be achieved together.
We have experienced the value of using aromatherapy in the centre for years now. It can lift the mood, clear the air and support our positive efforts. We are always striving to assist our clients see the best possible vision for themselves and in turn achieve our own best visions!
Both aromatherapy and visioning can benefit the workplace in more ways than one by shifting energy from the challenges that come before us. What are we focused on? Keeping a positive focus for our clients, ourselves and the team.
Our staff and clients have also enjoyed your expertise in chair massage. Your intuitive abilities to discern what a person needs are second to none.
We look forward to working with you more.
Shelley Sims
Herbal Magic Weight Loss and Nutrition Centre
Metral Station
1-6332 Metral Drive, Nanaimo, BC
250-390-0677
hmnanaimo@gmail.com
www.herbalmagic.com
………………………………………………………………
Real Food – Personal Coaching – Natural Products
---
Tammy was a guest speaker at the Ladysmith Women's Business Network meeting in April 2011. Her talk was well presented, interesting, and entertaining. The women at the meeting were all very pleased with the speaker and I would highly recommend Tammy as a speaker at other events.
Nikki MacCallum
Owner, NikkiDesigns
President, LWBN
---
From one participant in a meditation workshop…
"It was amazing how much the scent of the oil helped to focus my meditation and allow for further clarity.  I prefer the guided meditation so the way you did the walk through with us was perfect.  I am interested in learning more about energy, chakras and oils and would like to attend the next workshop on the 20th."
---