Lifestyle Harmony carries a variety of quality products from Nature's Sunshine.
With over 600 products, Nature's Sunshine has something to fit just about every health need. They skillfully combine the right herbs and nutrients in special blends to maximize potency and ensure safety. Below is just a sample of the products carried by Lifestyle Harmony. For more information and to order contact Tammy or call her at (250)754-3930.

Olive Leaf Extract Conc. (60 caps)
Benefits:
• Helps protect against unwanted invaders and is especially desirable during foreign travel.
• Helps the body maintain blood pressure levels already within the normal range.
• Fights free radical damage as a strong antioxidant.
• Supports blood sugar levels within the normal range.
• Supports the immune, circulatory, urinary and digestive systems.
Olive Leaf Extract [Immune, Circulatory] supports several circulatory needs, including maintaining blood pressure levels already within the normal range and maintaining arteries by providing free radical protection against LDL (bad cholesterol). In addition, olive leaf may possess antimicrobial properties.
NSP Olive Leaf Extract is standardized to 12% oleuropein, the key active ingredient.
Adults: Take 1–3 capsules daily with meals.
For more information and to order contact Tammy or call her at (250)754-3930.
---
SilverGuard Mouthwash

Silver compounds have been used medicinally for centuries. Greek and Roman societies stored liquids in silver-lined containers to keep them fresh. American settlers traveling west would put a silver dollar in milk to delay its spoiling. The use of silver as medicine was widespread until World War II when antibiotics became the standard treatment for infections. However, due to overuse, many pathogenic organisms are becoming resistant to antibiotics. Recently, silver has been reintroduced as a natural alternative to fight bacterial infections at early stages of illness.
Research indicates that Silver (with Aqua Sol Technology) is an effective immune system booster, discouraging the growth of unwanted invaders. SilverGuard is an effective alternative to other products on the market
---
---
Silver Shield Gel (3 oz. tube)
Benefits:
• Uses only the finest particle-size colloids to ensure maximum bioavailability and efficiency.
• Is completely non-toxic; causes no heavy metal contamination.
• Also acts as a moisturizer for the skin.
Silver Shield Gel with Aqua Sol Technology [Immune] provides 24 ppm of silver in a clear gel that moisturizes. Silver Shield Gel is made with food-grade ingredients, contains no alcohol, and is safe for children.
This product is manufactured with a patented process called Aqua Sol Technology and uses only the finest particle-size colloids to ensure maximum bio-availability and efficiency. Silver Shield Gel is completely non-toxic, safe and effective without the risk of heavy metal contamination.
Apply a small amount of gel to skin as needed.
For more information and to order contact Tammy or call her at (250)754-3930.
---
Uña De Gato (Cat's Claw) (100 caps)
Benefits:
• Supports immune system function.
• Helps cleanse the entire digestive tract.
• Enhances nutrient absorption.
• Helps strengthen the skeletal system, especially the joints.
Uña de Gato (Cat's Claw) [Immune] is found in the South American rainforest. It is particularly beneficial to the immune and structural systems, offering support to the joints.The inner bark of this vine provides beneficial alkaloids.
Each capsule contains 300 mg of uña de gato combined with astragalus and echinacea. All have immune-enhancing properties.
Adults: Take 1 capsule daily with a meal.
For more information and to order contact Tammy or call her at (250)754-3930.
---
Odorless Garlic

Nature's Sunshine offers you the finest and most potent garlic on the market today with a special coating that controls the garlic's odor. When broken open, these tablets have a strong garlic odor—unlike other "odorless" garlic products. Trade-secret processing and careful preparation of each tablet give NSP's high-potency garlic a special locked-in freshness coating that contains chlorophyll, which controls odor while assuring a long, effective shelf-life. Because the tablet does not break down for absorption until it reaches the small intestine, you receive the full nutritional value of garlic without the undesirable taste. Moreover, comparing total allicin potential (TAP) with other leading brands, Nature's Sunshine leads the pack.
---
Stress-J (100 caps)
Benefits:
•Promotes natural calming
•Supports proper stress mechanism function.
•Aids proper digestion.
•Provides help for occassional stress relief.
Stress-J [Nervous]. This anti-stress formula provides nutrients to help facilitate proper function of the nervous system. The formula contains one of the most favored herbs of Europe, chamomile, which is known for its calming effects. This combination is designed for occasional stress relief.
Complementary products include B-complex vitamins, bee pollen and vitamin C.
It contains:
Passion flower aerial parts
Fennel seeds
Feverfew aerial parts
Hops flowers
Chamomile flowers extract
Marshmallow root extract
Available in capsule and liquid glycerin form.
For more information and to order
---
Vitamin D3 (60 tabs)
Benefits
• Supports bone health.
• Helps maintain the immune system, especially during the cloudy months.
Vitamin D3 [Skeletal, Immune]. The body manufactures Vitamin D through sun exposure, which makes it difficult to obtain adequate amounts of vitamin D during cloudy or winter months. Vitamin D comes in two forms, D2 and D3. Of the two, D3 is more bioactive.
In the body, vitamin D is responsible for maintaining normal blood levels of calcium and phosphorus and for helping to build strong bones. Vitamin D works with other vitamins, minerals and hormones to promote bone mineralization. Additionally, research shows that vitamin D may help support a healthy immune system.
NSP Vitamin D3 contains 2,000 IU natural vitamin D3 derived from lanolin harvested from the wool fat of sheep from New Zealand and Australia. These animals are certified BSE-free.
Adults: Take 1–2 tablets daily with a meal.
---
Nutriburn – Vanilla – Whey Protein
Nutriburn, a high-protein, low-carb drink mix, is made using the latest generation of high quality whey protein. It is manufactured from sweet dairy whey using a cold ultra-filtration membrane technology to produce an undenatured protein concentrate. Whey protein provides all nine essential amino acids and is the most beneficial type of protein for the building of lean body mass. Scientific studies have also shown that the fiber content in whey protein is beneficial to the gut.
Nutriburn is also enriched with CLA (conjugated linoleic acid). Studies on CLA have shown that it increases lean body mass in animals.
Vanilla flavour:
•Excellent source of protein
•Cholesterol-free
•Low in fat and free of saturated fat
•Contains no trans fat
•Low in sodium
•Suitable for sodium-restricted diets
•No sucralose
Contact Tammy or call her 250-754-3930 to try Nutri-burn today.
---
Solstic Energy Drink $31.05 (30 packets per box, 3.77 g each)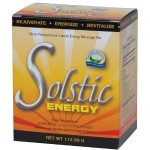 A convenient, single-serving, all-natural energy beverage mix. Containing energy-boosting ingredients and powerful antioxidants:
• guarana seed extract
• grapeskin extract
• decaffeinated green tea extract
• Korean ginseng extract
• Vitamin B3
• Vitamin B5
• Vitamin B6
• Vitamin B2
• Vitamin B12
• Vitamin B1
---
Liquid Essential Minerals $37.11
This product contains 73 different minerals in colloidal suspension. Colloids are extremely tiny particles that are easily absorbed by the cells of the body. Minerals and trace minerals are very vital for overall health including mental, physical as well structural. Minerals help to facilitate the production of neurotransmitters and hormones.
---
Zambroza $43
Zambroza is a delicious juice that offers so much more then good flavor and vitamin C. It is full of antioxidants, which help to maintain the body's natural defense mechanisms. Zambroza's antioxidants help with free radical damage, which is caused by daily living and increased by stress, chemicals, food additives, improper diets, and poor lifestyle choices.
One of Zambroza's key ingredients is mangosteen, which is known for xanthones. Xanthones help the immune and cardiovascular systems and also assist with fighting cancer.
This particular blend of juices has the highest ORAC score of almost 52000, which is almost double its competitors' score. According to Kimberly Da,y Zambroza offers the biggest bang for your buck.
---
Spring Cleaning Products –
1.Bod E Klenz – Speeds up weight-loss with this 30-day powerful cleansing program of herbs, vitamins and minerals, consists of morning, noon and evening packets, it can also be taken as 3-10 day cleanses.
(retail $93.71 plus HST)
2.Enviro D-T-X – Enhances the body's natural cleansing process that can get slowed down by environmental pollutants and toxins. This formulation supports the 5 primary detoxifying eliminatory organs; liver, kidneys, lungs, bowels and skin.
(retail $28.55, plus HST)
3. Tiao He Pak – A convenient 10 day cleanse. Targets intestinal, digestive and circulatory systems. Helps restore functions of weakened organs to insure they perform to the full capacity.
(retail $45.36, plus HST)
4. Candida Clear –  This 14 day cleanse promotes good digestion, elimination and supports the immune system. Plus stimulates detoxification in the liver.
(retail $106.79, plus HST)
Contact Tammy or call her at (250)754-3930.
---
~ SOLSTIC ENERGY ~  $30
is a nutrient-rich formula that boosts energy without the jitters and crashes of other energy drinks. Solstic's blend of natural, energy boosting ingredients gives added stamina without crashing later, and without added long-term health risks.
Solstic Energy contains the complete complex of B vitamins, which play an important role in energy metabolism. It comes in convenient, take-anywhere, easy-to-use stick packs, and is highly economical with 30 packets in a box. With so many benefits, Solstic is the natural choice for when you want energy without side effects.
Solstic Energy is more than a delicious thirst-quenching beverage! It contains nine key ingredients which give the body energy and vitality. Solstic Energy helps reduce fatigue, increase mental focus, and boosts metabolism.
Take Solstic Energy along with you to the office, sporting events, traveling, or any on-the-go activity.
For more information and to order contact Tammy or call her at (250)754-3930.